The Doseo technology platform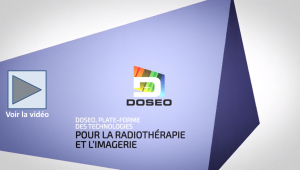 The Doseo technology platform opened its doors on October 1, 2014. All radiotherapy and medical imaging stakeholders—manufacturers, researchers, and clinicians—can use the platform's advanced technology and experienced staff for their own R&D projects. The platform is open during business hours.
The platform was selected to receive support under the French government's 2009–2013 cancer plan, was named a French Single Interministerial Fund Innovation Platform in 2010, and is certified by the Medicen Paris Region cluster.
A center unlike any other in Europe
35 employees
2,400 sq. m of lab and office space and conference and training rooms
€18 million invested
€8 million in equipment representing the radiotherapy workflow
Partnerships with manufacturers, treatment centers, and academic institutions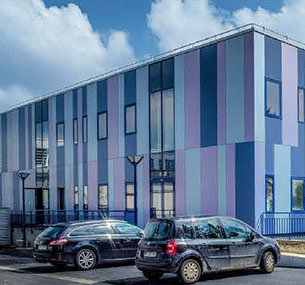 Goals and missions
The Doseo platform for research and development in radiotherapy technology was set up to improve radiotherapy technology while minimizing the associated risks.
The center has four missions:
Innovate technological solutions for tomorrow's systems
Improve control of radiotherapy systems to deliver maximum patient safety
Train radiotherapy students and practitioners
Build relationships with and between all radiotherapy stakeholders, from R&D partners to manufacturers and from healthcare professionals to regulatory authorities
An open facility
Doseo is backed by the French Alternative Energies and Atomic Energy Commission (CEA) and is located near NeuroSpin in an area of the CEA-Saclay campus that is open to the public.
The center is home to researchers from several institutes, including CEA LIST for R&D; LNE-LNHB for dose metrology; and INSTN (France's National Institute for Nuclear Science and Technology) for training.
Founders
INCA (France's national cancer research institute)
LNE (France's national metrology and testing lab)
CEA (French Alternative Energies and Atomic Energy Commission, represented by its institutes CEA LIST and INSTN)
These organizations provide financing for Doseo, of course. But they also deliver international-caliber know-how in research, training, and metrology, and make active contributions to Doseo's research strategy and programming.
Sources of funding
Doseo is a far-reaching, multi-partner initiative that exists thanks to financing from:
INCA (France's national cancer research institute)
LNE (France's national metrology and testing lab)
The Essonne General Council
The Île-de-France Regional Council
ERDF (the European Regional Development Fund)
The French government's Plan campus university revitalization program (Doseo is part of the Paris-Saclay university campus)
The French Single Interministerial Fund (FUI) through the French Directorate General for Enterprise (DGE)